The Indexing Society of Canada / Société canadienne d'indexation (ISC/SCI) is Canada's national association of indexers.
We invite you to find an indexer for your project, read our publications, discover our conferences, events, and resources for indexers, find out about membership, and learn about the Society.
Find an indexer who works in the subject area of your project.
Find information about indexes, indexing practices, and training in indexing.
Join the Society and enjoy the benefits of membership.
Featured Post
An experienced indexer gives advice to authors who are thinking about indexing their own book.
JoAnne Burek
On the confluence of the Red River and the Assiniboine River lies Winnipeg. For thousands of years, this area was the crossroads of canoe routes linking the Indigenous Peoples of the north to those of the south along the Mississippi and Missouri Rivers.
And it was here that, according to Anishinaabe (Ojibwe) oral tradition, a very large peace meeting took place 500–700 years ago among about ten different Indigenous groups.
That's something to think about as we arrive for our annual conference in June.
Winnipeg is an extraordinary multicultural city that values its heritage and its inclusivity. You'll experience it for yourself when you take in just some of these must-do activities.
The Forks
The Forks is one of Winnipeg's most beloved places. Located at the confluence of the Red and Assiniboine Rivers, it's a unique combination of park-like atmosphere combined with restaurants, shopping, a river walk, and more. Chances are very good that there will be an outdoor event going on when we're there.
Visit theforks.com

The Canadian Museum for Human Rights (CMHR)
"The world's only museum that explores human rights as a concept and aspiration. It is not built around a collection of artifacts, but designed to illuminate a powerful idea. Visitors embark on an inspiring journey from darkness to light – exploring global human rights stories through a uniquely Canadian lens." (Source: CMHR)
One of the exhibitions that will be running in June is "Canadian Doctors in the Field," the stories of three doctors who have worked in conflict zones.
Visit humanrights.ca
The Exchange District
This historic thirty-block district is considered one of Canada's architectural marvels. Named for the original Grain Exchange that operated from 1880 to 1913, it features massive brick warehouses, terracotta-clad buildings, and cobblestone lanes. Movies are filmed here.
Take a historic walking tour and linger at trendy Old Market Square where you'll find bistros, galleries, vintage and antique shops, and café culture.
Visit exchangedistrict.org
Canadian Mint
For a unique experience, visit the high-tech manufacturing facility that produces all the coins in circulation in Canada plus the coins of eighty other countries. That's billions of coins each year!
Visit http://www.mint.ca/store/mint/visit-the-mint/winnipeg-location-8900024#.Wd5axDBrxnk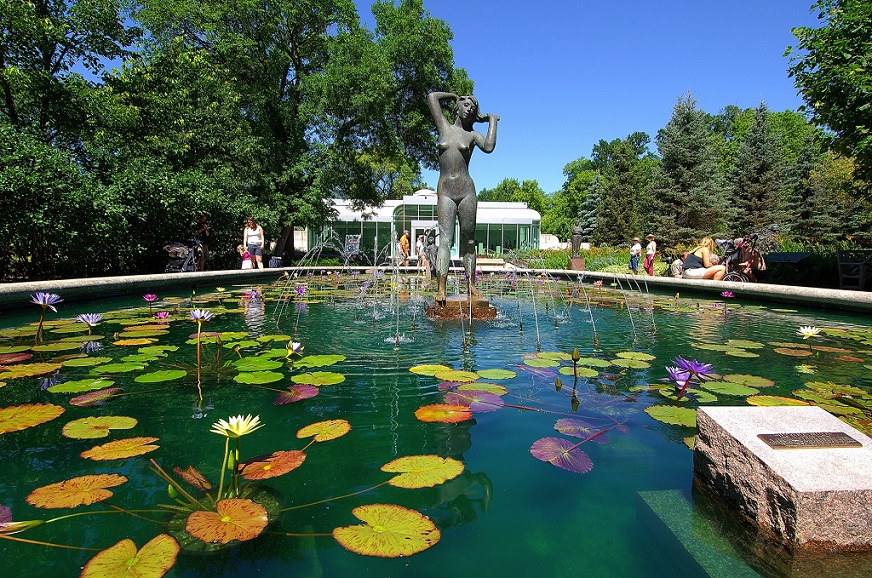 Assiniboine Park: Conservatory and English Gardens and Leo Mol Sculpture Garden
The English Garden is nearly three acres of flowers, shrubs, and trees. It was established between 1926 and 1927 to inform visitors about floriculture. New plant varieties are added every year. The Rose Garden has more than 400 bushes of Floribunda, Grandiosa, and the prairie-hardy Rugosa varieties.
Leo Mol (1915–2009) was a Ukrainian Canadian stained-glass artist and prolific sculptor. His works are displayed around the world (such as the likenesses of three popes in the Vatican, the Queen on Parliament Hill, and Sir William Stephenson C.C. [code name "Intrepid"] at the CIA headquarters in Langley, VA).
The Leo Mol Sculpture Garden includes a gallery, renovated studio, and outdoor display.
Visit assiniboinepark.ca/park-landing/home/explore/gardens
Winnipeg Art Gallery
Canada's sixth-largest art gallery contains works spanning ten centuries, including the largest collection of Inuit art in the world. The landmark building is made of Manitoba Tyndall stone and has a rooftop restaurant.
Visit wag.ca
Regional Cuisine
Winnipeg has a thriving food culture, thanks to its creative, multicultural makeup and the bounty of the surrounding Canadian Prairie farmland, lakes, aspen forests, and wetlands.
Take a self-guided food tour by downloading the "Culinary Trails" guides on the Tourism Winnipeg website. With tours such as the international "Around the World in 8 or 9 Plates" and the regional "Homegrown Trail" there is much to discover.