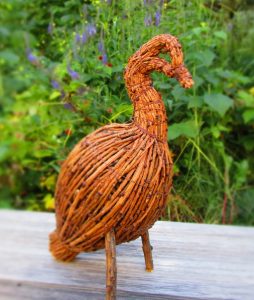 The Tamarack Award was instituted in 2004 by Ruth Pincoe, then President, to recognize members who go "above and beyond the call of duty" in their volunteer work for the Society.
It is awarded annually and is the subjective decision of the President or Co-presidents.
It is called the Tamarack because the physical acknowledgment of the award is a small version of a tamarack-twig decoy created by the Cree people of the James Bay area.
Tamarack Award Recipients
The Indexing Society of Canada / Société canadienne d'indexation (ISC/SCI) is pleased to announce the 2023 recipient of the Tamarack Award. Ronnie Seagren (Toronto) is being recognized for her contribution and commitment to the society. Ronnie was chosen for her unflagging dedication to the society, willingness to always lend a helping hand, and dedication to …
[…]
2016 Tamarack Award: Mary Newberry
2015 Tamarack Award: Christine Jacobs
2014 Tamarack Award: Moira Calder
2013 Tamarack Award: François Trahan
2012 Tamarack Award: Vivien Cartmell
2011 Tamarack Award: Heather Ebbs
2010 Tamarack Award: Jennifer Hedges
2009 Tamarack Award: Gillian Watts
2008 Tamarack Award: Ruth Pincoe
2007 Tamarack Award: Jane Maguire
2006 Tamarack Award: Cheryl Lemmens
2005 Tamarack Award: Noeline Bridge
2004 Tamarack Award: Beth Macfie