La Société canadienne d'indexation / Indexing Society of Canada (SCI/ISC) est l'association nationale canadienne des indexeurs.
Nous vous invitons à trouver un indexeur, à consulter nos publications et les ressources pour les indexeurs, en apprendre davantage au sujet des congrès et événements, et à devenir membre de la Société.
Trouvez un indexeur spécialisé dans le domaine de votre projet.
Trouvez de l'information sur les index, les pratiques d'indexation et les formations offertes en indexation.
Joignez-vous à la Société et profitez des avantages d'une adhésion.
La Société désire que ses langues de travail soient le français et l'anglais. Vous noterez, par contre, qu'une partie du contenu de notre site Web n'est qu'en anglais seulement. Si vous voulez nous aider à accroître le contenu en français nous acceptons les bénévoles avec des connaissances dans l'indexation et le monde de l'édition; envoyez un courriel à notre présidente : presidents@indexers.ca
Article vedette
Comment travailler avec un indexeur ou engager un indexeur.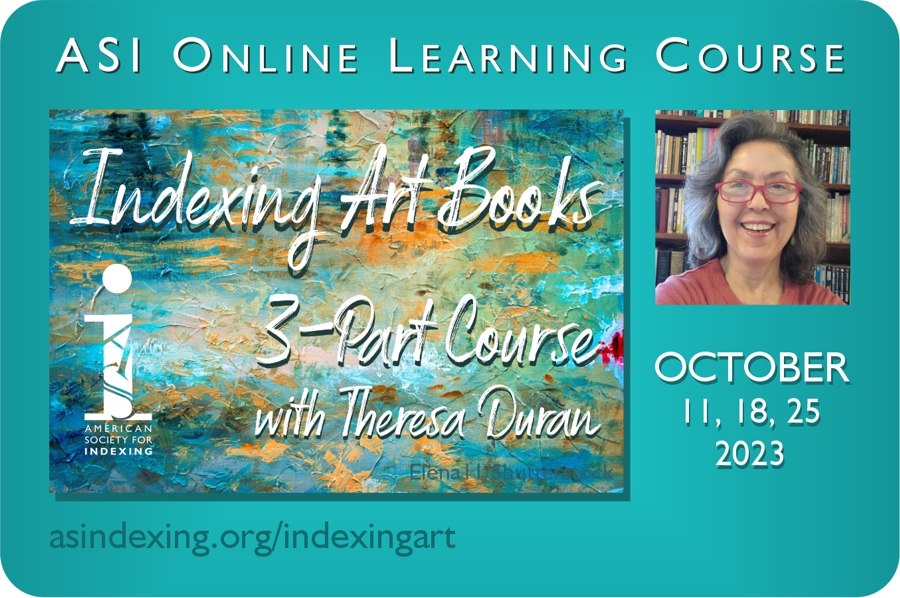 A three-part course with Theresa Duran. Presented on October 11, 18, and 25, 2023.
Art books represent a thriving segment of the publishing industry. They encompass a variety of book categories—from coffee-table books to exhibition catalogues to academic or technical studies—and an even greater array of subjects. What art books all have in common is an abundance of illustrations. The indexer must understand the conventions pertaining to specific types of artworks and the expectations that clients might have about the indexing of images.
This three-part course offers a comprehensive guide to the glorious world of art books. It begins with an overview of the field, then dives straight into the thicket of artist names, art titles, captions, and illustration locators. It wraps up with practical tips and strategies for avoiding clashes with clients, troubleshooting common problems (particularly index length restrictions), and finding work. Each session is filled with examples from actual art books. Additional examples and resources are included in the handout.
The course is designed to benefit both novice indexers who are interested in breaking into the field and experienced indexers who would like to hone their skills and gain confidence in their approach. Some of the tactics covered can be applied to books in other disciplines.
Course Overview
Session 1
Art Books: The Big Picture
My background in art publishing
Types of art books and their challenges
Types of art publishers and indexing clients
Q&A
Session 2
Artworks, Artists, and Locators
Common image organization schemes
A to Z of art captions
Illustration locators
Treatment of art titles
Treatment of artists
Q&A
Session 3
Projects: Getting Started, Troubleshooting, Finding Work
Questions to ask at the start of a project
Managing length restrictions
Setting rates and bidding on projects
Getting established in the field
Resources
Q&A
Please note: Attendance at the live sessions is not required. Registration entitles you to "on demand" access to the course and unlimited repeat viewings after the initial sessions have aired.
About our Presenter
Theresa Duran, PhD, is a former staff editor at a publishing house that specialized in art books, calendars, and other products for museum gift shops. She left that position in 2005 to become a full-time freelancer, offering indexing, copyediting, and proofreading services. In the past few years, Theresa has come to focus on the indexing of art books. A resident of Marin County, California, she is the current president of the American Society for Indexing (2023–24).
For more information and to register: https://www.asindexing.org/online-learning/art-duran/. ISC/SCI members have access to a discount code for this course in the Member Dashboard.