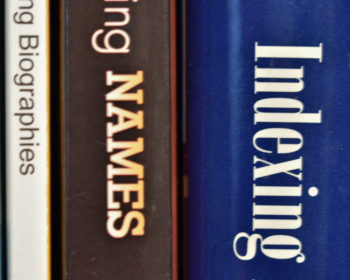 Indexing names sounds so easy.  But names indexing is so much broader than just people—it really encompasses all proper nouns and titles and places—and it requires lots of decision-making and judgment calls on the part of the indexer.  No matter what subject area you specialize in, you encounter these name-related issues.
You face the challenges of "foreign" or "ancient" cultures, the possibility of names changing over a lifetime, and countries with former names, present names, and official names.  You encounter royals, religious figures, fictional characters, and pseudonyms.
Authors introduce their own wrinkles into our jobs, creating confusion with multiple spellings, and setting up expectations that we don't even know about in terms of what we should include and exclude from the index.
As our presenter Enid L. Zafran says, "There is so much to talk about in terms of indexing names that we need a whole day devoted to it."
And that is why the ISC/SCI has chosen to offer a full-day post-conference workshop on "Names" conducted by Enid.  She will tell us short-cuts and strategies for entry methods, detail what to include in a entry like parenthetical glosses, how many postings to make per "name," explain when a name is indexable, and discuss the sorting requirements.  Practical advice about dealing with clients and pricing the indexing are interspersed throughout.
To solidify your learning, the workshop includes two hands-on exercises where you'll practice your new knowledge in expertly navigating names issues.
Please note that this is also the last event of Enid's public-speaking career—she is hanging up her "presenter" hat, and you won't want to miss out on this final chance to hear one of the most popular U.S. indexing experts. She has given talks at past ISC/SCI conferences as well as numerous chapter and national conferences in the United States.  Her books and articles have offered guidance to many of us for the past few decades.  We are honored that Enid has chosen to end this part of her career by coming to Ottawa and spending the day with us!
The ISC/SCI conference is in Ottawa on May 24 – 25, and the "Names" workshop will be held May 26. Registration for both will be on the conference page in a few weeks.