The Tamarack Award was instituted to recognize members who go "above and beyond the call of duty" in their volunteer work for the Society. According to ISC president Alexandra Peace and past president Margaret de Boer, it was an easy decision to recognize the 2019 recipient, Stephen Ullstrom.
Stephen, who lives in Edmonton, was chosen because of his dedication and valuable input on the executive committee and for his commitment as the Prairies and Northern Canada regional representative for the past two years and agreeing to remain as the representative for an additional period. He is also being recognized for his strong vision of a mentorship program for the Society and for bringing it to fruition.
"We are thrilled to present this award to Stephen, and we are honoured to have him as a member of our society," said Alexandra and Margaret. "Thank you, Stephen, for all you have given to the Society and its membership." And here's what some of Stephen's colleagues on the executive had to say:
Pierre Joyal, Vice-President: "Stephen was the driving force behind the mentorship program. He was its initial sponsor, the originator of the concept and saw it to fruition. It would not have happened without his commitment and dedication, his work efforts, and determination to seeing it through. We are grateful for the work he accomplished and congratulate him on a well-deserved award."
JoAnne Burek, Website Administrator: "As the regional representative for the Prairies and Northern Canada, Stephen genuinely cares about the well-being of his colleagues. He ensures that every few months they get together for conversation about business, indexing, work/life balance—whatever they want to talk about—even though they are spread across three provinces and into the States."
Congratulations to Stephen on his accomplishments and for this special recognition.
Past recipients of the Tamarack Award and other ISC awards can be found on the awards page.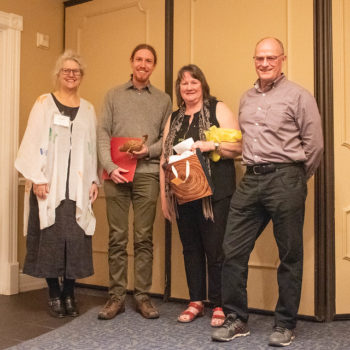 Stephen Ullstrom (second from left) receives the 2019 Tamarack Award from members of the ISC Executive.
Photo credit: JoAnne Burek