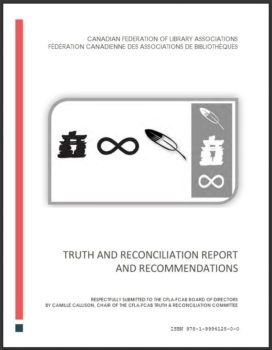 Last December, one of the topics that came up on the ISC-L list was the need to decolonize terms in the library classification system. In the ensuing thread, we heard that work was underway, driven mainly by the Canadian Federation of Library Associations (CFLA-FACLA).
So, what is this work? Following up on the report of the Truth and Reconciliation Commission, the CFLA-FACLA formed a Truth and Reconciliation Committee to advance the Calls to Actions. In 2017, the Committee delivered an 87-page report. The report presents 10 over-arching recommendations and many detailed recommendations along four tracks, designed to help libraries in their efforts to advance reconciliation.
Work is indeed underway. We are thrilled to have the Chair of the Committee, Camille Callison, join us at the conference on Ottawa May 24-25. Camille will be accompanied by Katherine Kasirer, Senior Librarian at the National Film Board. They will give a joint keynote presentation on a special decolonization project: "A Behind-the-Screen Look at the Indigenous Knowledge Materials Classification Schema (IMCS) Implementation during the Creation of NFB's Indigenous Cinema".
You can register for the conference here.