Mercedes Brian Indexing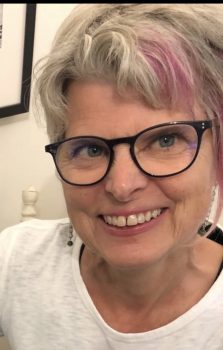 Having completed UC Berkeley's Indexing: Theory and Application, a bachelor's degree (philosophy), and sociology and psychology courses, my indexing directions include working with authors of social justice, biography, memoir, environmental, handcrafts, children's and young adults' books, trade, textbooks, and scholarly works, as well as cookbooks. 
A quick learner who is comfortable in new environments, I'm curious about everything and anything! 
Here's a sampling of my recent interests and experiences: I was the three-term board chair of a now-thriving Farmer's Market Coop, a two-term municipal politician and a provincial political candidate. I was a founding member of my municipality's Accessibility Committee, the chair of the inaugural Environmental Sustainability Committee and presented at a conference on energy policy for municipal leaders.  At a provincial level I helped develop policy on accessibility and on economic development. I've also been a CNIB Vision Mate since 2020.
I'm an avid reader and a constant knitter.
As an active member in ISC/SC I attend conferences regularly to continue developing my indexing skills. I use Cindex for back-of-book indexes and Index Manager for embedded indexes. 
Please know that through my personal interests and experiences I'm ready and willing to index: business; government and politics; alternative health; psychology and mental health; health care; agriculture; horticulture; construction and real estate; energy; transportation; food and drink; gardening; crafts; animals and pets; sports, fitness and recreation; travel and tourism; personal development; ecology and the environment; indigenous peoples; culture; education; family; gender studies; senior studies; child studies; sexuality; social activism; sociology and social services; and urban studies.
For more information please go to my webpage MercedesBrian.ca and also my LinkedIn. Email me at the link to your right to learn how I can create your index.
Arts and Humanities

:

Art and architecture, History

Economy, politics and law

:

General, Business, Finance and taxation, Government and politics

Health and medicine

:

Alternative health, Psychology and mental health, Health Care

Industry and technology

:

Agriculture, Horticulture, Construction and real estate, Energy, Natural resources, Transportation

Lifestyle and Leisure

:

Fashion, Food and drink, Gardening, Crafts, Animals and pets, Interior design and decorating, Sports, fitness, and recreation, Travel and tourism, Personal development

Sciences

:

Ecology and environment

Society

:

Indigenous peoples, Culture, Education, Family, Gender studies, Senior studies, Child studies, Social activism, Sociology and social services, Urban studies

Materials - Books

:

Scholarly books, Trade monographs, Biographies and memoirs, Art and photography, Children and young adult, Cookbooks, Guidebooks, Textbooks, Manuals and how-to books

Materials - Other

:

Government materials, Reports, Business/government correspondence, Policies and procedures, Personal files and correspondence, Pictures and illustrations, Transcripts and minutes

Other Skills

:

Metadata