Absolute Indexing - Siusan Moffat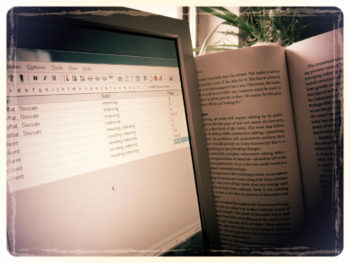 About me:
I have wide interests and a varied background that includes food, art, film studies/archiving, and old technology/media.  My specialty is social justice.
While I am skilled in many different realms I prefer to focus on indexing and am active in ISC committees, including The Inclusion, Diversity and Equity committee (TIDE). My prices are fair and I work with both authors and presses to give a thorough and concise index. As a UC Berkeley indexing course graduate, I continue professional development in indexing through webinars, seminars and conventions.
I would really like to index the niche subjects of old Hollywood and vintage radio shows. I'm also looking to do more cookbooks!
Some of the books I've indexed:
Going Public: The Survivor's Journey from Grief to Action, by Julie Macfarlane, Between the Lines.
Gentrifier, by John Joe Schlichtman, Jason Patch and Marc Lamont Hill, University of Toronto Press.
Seven Fallen Feathers: Racism, Death, and Hard Truths in a Northern City, by Tanya Talaga, House Of Anansi Press.
The Ethics and Politics of Breastfeeding: Power, Pleasure, Poetics, by Robyn Lee, University of Toronto Press.
Appropriate: A Provocation, by Paisley Rekdal, W.W. Norton & Company.
Rainbow Foods: 50 Recipes Color Coded and Vitaminized, by Linda Louis, Firefly Books.
Plantation Memories: Episodes Of Everyday Racism, by Grada Kilomba, Between the Lines.
They Shot, He Scored: The Life and Music of Eldon Rathburn, by James K. Wright, McGill-Queen's University Press.
Damage: A Call for a Care Revolution, by Robert Maunder and Jonathan Hunter, Aevo UTP.
Why We Fight: Essays on Fascism, Resistance, and Surviving the Apocalypse, by Shane Burley, AK Press.
Against White Feminism: Notes on Disruption, by Rafia Zakaria, W. W. Norton & Company.
Contact:
You can learn more by visiting my website: absoluteindexing.com
Please send me an email if you'd like a quote.
Thank you!
Arts and Humanities

:

Art and architecture, History, Literature, Music, Media studies

Health and medicine

:

Alternative health, Psychology and mental health

Industry and technology

:

Communications, Information services and technology

International studies

:

Africa, Canadian studies, Developing countries, Australia and Oceania, Latin America and the Caribbean, United States, International relations

Lifestyle and Leisure

:

Fashion, Food and drink, Gardening, Crafts, Animals and pets, Interior design and decorating, Travel and tourism, Personal development

Sciences

:

Ecology and environment

Society

:

Indigenous peoples, Culture, Education, Gender studies, Social activism, Sociology and social services, Urban studies

Materials - Books

:

Scholarly books, Trade monographs, Biographies and memoirs, Art and photography, Children and young adult, Cookbooks, Guidebooks, Textbooks, Manuals and how-to books

Materials - Other

:

Academic papers and essays, Artifacts, Multimedia, Pictures and illustrations