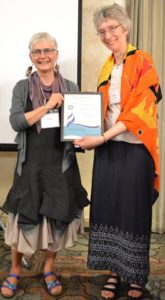 Audrey McClellan was presented with the Ewart-Daveluy Award for Indexing Excellence at the awards banquet of the Indexing Society of Canada in Winnipeg on June 9, 2018, for her index to Barry Gough's Churchill and Fisher: Titans at the Admiralty, published by Seaforth Publishing.
As its title suggests, the book focuses on the relationship between Winston Churchill, as First Lord of the Admiralty, and John Fisher, as First Sea Lord of the British Royal Navy, but also covers the evolution of the British Navy during the late 19th and early 20th centuries and the relevant events of the First World War.
The indexing challenge was to compress 585 pages of what often felt like three books in one into a 13-page index accompanied by a short Index of Ships. Audrey rose to this challenge, achieving a thorough and comprehensive coverage of all relevant topics and personal names, along with the interrelationships between and among topics and names within the space constraints.
An excerpt from the index is available here, courtesy of Seaforth Publishing.