Congratulations to Judy Dunlop on receiving the 2017 Ewart-Daveluy Indexing Award!
Judy Dunlop was presented with the Ewart-Daveluy Award for Excellence in Indexing at the awards banquet of the Indexing Society of Canada in Montréal on 2 June 2017. The award honours Judy's indexing of One Child Reading: My Auto-Bibliography by Margaret Mackey, published by the University of Alberta Press.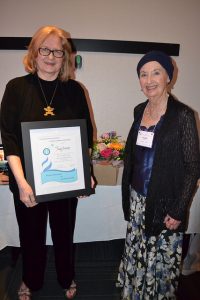 One Child Reading is a unique and fascinating examination of reading and literacy development. Author Margaret Mackey revisits the things she read, viewed, listened to and wrote as she grew up in the 1950s and 1960s in Newfoundland. Her reading included school texts, knitting patterns, musical scores, games, church bulletins, family magazines and hundreds of books. In One Child Reading, Mackey weaves her growing literacy and social consciousness with the books of her childhood and youth and the history of the time and place.
The indexer's challenge was to combine in one comprehensive, cohesive index the three aspects of the book: the author's memories, the theoretical discussion and the analysis of specific texts. In addition to standard terminology to cover off the biographical details, the indexer had to incorporate the sometimes unique terms the author created for the textual criticism and social analysis. As one judge noted, "This is an indexer who's not afraid to directly express the language of the text … and also to use some ingenuity in handling sections like the distinction between a subject in theory vs. its relation to the author's life." Said another, "The index is wonderfully fulsome and narrative, and brief and concise—quite a feat."  "There are some lovely discoverables in this index," said the third. The author herself was "awestruck" by the "sensitivity of [the indexer's] reading."
An excerpt of the index is available here, with permission courtesy of the University of Alberta Press.