December 5, 2023
Life hacks are simple and clever tips or techniques for accomplishing a familiar task more easily and efficiently. Indexing life hacks are all about working smarter at the job of indexing. Four experts share the hacks they use to save time, minimize stress, and increase efficiency. Whether you're wrestling with PDFs or footnotes, tracking clients and projects, or searching for a more comfortable office setup, we've got you covered. Join us December 5 for Indexing Life Hacks, a three-hour program crafted just for you.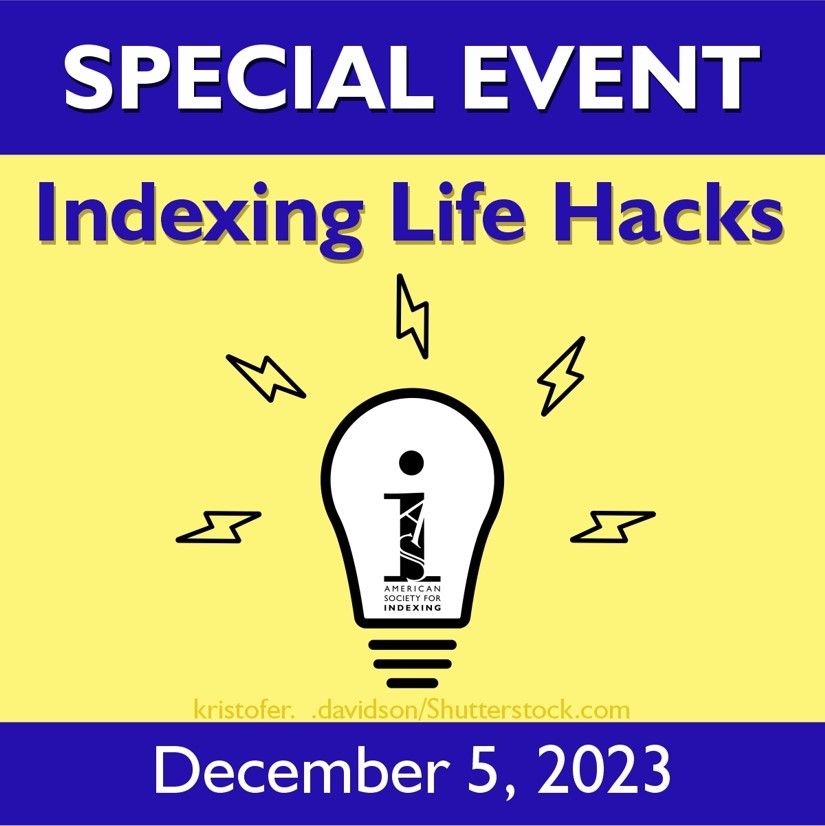 Show Those PDFs Who's Boss
Your client sends you a PDF with two-page spreads. Now what? Whip your PDFs in shape, that's what. Learn how to break apart a spread, work around secured files, and renumber pages so that the PDF page 1 matches the book page 1. Hear various other hacks you can use when working with PDFs.
Kendra Millis began indexing in 2008, after completing the UC-Berkeley indexing course. She left a career in international education and chose to become a freelancer so she could return to her home state of Maine to raise her daughter. Her educational background is in Russian literature and social philosophy, although her indexing work spans a broad range of topics. She is currently one of the UC-Berkeley instructors and also owns a small fiber-arts business. She has chaired numerous ASI committees, served on the Board of Directors and was president of ASI in 2017–2018.
Project Tracking Like a Pro
Marilyn Augst figured out after her first few indexes years ago that she needed an organizational system to keep track of projects, clients, and payments. She uses the same system today. Hear her insights on organizing info on clients, projects, and statistics. Tracking when projects are coming in, planning how you need to allocate your time, and scheduling time for administrative work improves efficiency. Learn from a pro her system for handling project tracking.
Marilyn Augst has been a member of ASI since 1996, writing indexes for textbooks and trade books in math, engineering, physics, environmental sciences, education, service learning, and history. She was active in the Heartland Chapter, holding every committee chair and office at some point, and some offices twice, from 1998 thru 2009, and as one member said, "You were president for two centuries!" During Covid (2020), she and her tech support (aka husband) moved from Indiana back to her home state of Minnesota. Without in-person meetings, she has not yet met all the Upper Midwest Chapter folks, but hopes to in the coming years.
Making Work Feel Less Like Work
Your office setup plays a big role in how you feel at the end of the day, and it shouldn't feel like you've been doing manual labor. Dr. Lindsay McGraw, expert on office ergonomics, reveals how you can achieve ergonomic health by properly setting up your office, noticing what hurts and discovering why, and establishing healthy habits for long-term wellness.
Dr. Lindsay McGraw, physical therapist, ergonomic expert, orthopedic certified specialist, and wellness enthusiast, started Marka Health in 2016 after recognizing that many of the injuries she was treating were preventable. Today she consults with top tech companies to keep their employees pain free and productive.
And Furthermore…: Tips for Indexing Notes
Often a bane in indexers' lives, especially for those working in scholarly indexing, footnotes and endnotes need special attention. This session will provide some general guidelines for indexing notes, as well as tips to help speed your notes indexing. We'll look at a number of different examples of types of notes and will discuss them as examples of what one often encounters in the thicket of notes.
Since 1995, Fred Leise has been indexing a broad variety of texts, specializing in scholarly works in international relations, cultural and political history, film studies, music, and contemporary social issues. His index to Art and Affection: A Life of Virginia Woolf was shortlisted for the 1997 Excellence in Indexing Award, the only time that a shortlist has been announced for that honor. Fred also works as a freelance taxonomy consultant, having completed projects for several Fortune 500 companies, as well as a number of clients in the hospitality and travel industry.

Get more details and register at
https://www.asindexing.org/news/special-event-indexing-life-hacks/
ISC/SCI members can register at the member rate using the coupon code available in the Member Dashboard.