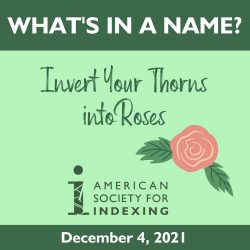 Date: Saturday, December 4, 2021
Early Registration deadline: November 19, 2021
What's in a name? Seemingly simple, in reality, a name can be a thorn in the side of indexers. To invert or not to invert?—that is just one question. Other times, you cannot tell what the dickens the name is. The American Society for Indexing is excited to bring together four experts who will share their knowledge about indexing names. No longer will you be false to any person's name.
This virtual event will be presented live via Zoom, and the sessions will be recorded. Your registration includes all four presentations (3 hours of programming plus 30 minutes of breaks). Each session will be followed by a 10-minute break or networking time. Take advantage of early registration rates through November 19.
If you are a member of ISC/SCI, you can receive the member discount using the coupon code on the Member Benefits page.
Program
Challenges in Indexing Names (Noeline Bridge)
10:00 AM, Pacific / 1:00 PM, Eastern (60-minute session)
When and how to index names can appear easy—and mostly is. But the minority can consume an undue amount of time, maddening when time is short. Noeline Bridge describes several categories of names that often pose difficulties, providing examples of each, many drawn from her own experience, along with tips on resolving questions.
Issues in Indexing Russian Names (Sergey Lobachev)
11:10 AM, Pacific / 2:10 PM, Eastern (30-minute session)
Indexing Russian names may seem straightforward, but there are some challenges that may confuse indexers who are not familiar with the language. This session explains how to avoid common mistakes when dealing with Russian names. Topics to be covered include handling spelling variations, use of patronymic names, rules for indexing names of royalties and Orthodox clergy, disambiguation of geographic names, and indexing abbreviations. In addition, some differences between Russian and Ukrainian names will also be discussed.
The Mystery of Spanish Personal Names, a Look at Gender and Culture (Francine Cronshaw)
11:50 AM, Pacific / 2:50 PM, Eastern (30-minute session)
Spanish names present unique challenges to the indexer. Cultural folkways are examined, especially around women's names. With cultural change and online databases, presentations of names have evolved. Knowing how to index both historical and contemporary names is important for consistency and reliability. Portuguese names flip Spanish structures and are treated briefly.
Genealogical Indexing: The Name's the Thing! (Carolyn Weaver)
12:30 PM, Pacific / 3:30 PM, Eastern (60-minute session)
Genealogical indexing focuses primarily on the names of people and the significant places and events affecting their lives. Spelling of personal names in official records is often fluid, affected by literacy, geographic location, immigration, politics, marriage(s), or adoption. Similarly, names of places, institutions, geographic borders and jurisdictions, and fixed sites such as cemeteries, churches, or battlegrounds cited in family histories are subject to change. This session will focus primarily on the disambiguation of names and the sources available (online and in print) that are useful resources for indexing family histories, publications of genealogical or historical societies, and related works.