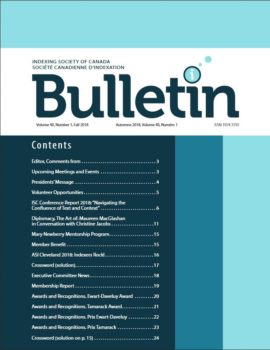 The post-conference issue of the Bulletin is now here. In this issue:
Stephen Ullstrom reports on the ISC/SCI conference in Winnipeg and gives us the highlights and take-aways.
Maureen MacGlashan talks to Christine Jacobs about her fascinating career as a diplomat in some of the world's hotspots, her experiences as editor of The Indexer, and her thoughts on what makes a gifted indexer.
Moira Calder reports from Cleveland on a Special Interest Group meeting and the sessions at the ASI Conference.
Plus, there's the Ewart-Daveluy and Tamarack award winners, Executive Committee activities, membership news—and the crossword puzzle!
This issue was brought to you through the efforts of the Ad Hoc Bulletin Policy Committee. They sourced a new design, layout, and template, developed a more efficient workflow, and tested it all in producing this issue.
Now it's time to put Bulletin production in the hands of a managing editor. Could that be you? If you have editing experience, a desire to put things together and be at the helm, and are interested in bringing ISC/SCI's news to your fellow members and to the world, the committee would like to hear from you. Send an email to bulletin_editor@indexers.ca and let them know.